More success for ISoA artist Dave Nelson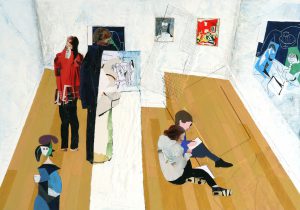 We are so proud of artist Dave Nelson. Since giving up his nice secure job at Tescos to move into the tricky and unpredictable world of being an artist, he has gone from strength to strength. He's been regularly showing and selling his work at art fairs around the country, as well as various galleries in London and Hertfordshire, including the prestigious Mall Galleries.
Dave works with drawing, painting and collage, making 'pictures that evoke memories of places, journeys and forgotten feelings'.
Dave has been attending Insight's Studio Friday mentoring sessions for artists for the past year and it's been an absolute pleasure to work with him. We've enjoyed seeing his rise to success and we're sure that you'll be interested too. So here's where you can go to see his work in the ext month or so:
Great Escapes – Nude Tin Gallery
Until June 7th
St Albans
4 works by Dave will be on show.
Hertford Art Society Open Exhibition
Until June 14th
Cowbridge Halls, Hertford
5 works by Dave will be on show.
New English Art Club
16th – 25th June
Mall Galleries, London
2 works by Dave will be on show.
Dave was recently interviewed by Three Counties Radio, where he revealed much of his fascinating story to date. You can hear the really interesting interview via this youtube link.
We hope you enjoy his work and we look forward to being able to share more of his success with you soon.
Recent Posts

Recent Comments