Oil painting workshop in memory of Gillian Ballance
On the Thursday 24th November, a group of 10—14-year-olds came to our Whetstone studio for a free oil painting workshop, funded by family and friends of Insight artist Gillian Ballance, who passed away earlier this year.
The children attending the session learnt about Michelangelo, and how his paintings and sculptures became an important subject matter for Gillian, as well as looking at the work of artists, Frank Auerbach and Leon Kossoff, whose technique inspired Gillian.
Following talks and demonstrations by Insight teachers Celestine Thomas and Matt Davies, the young artists started off by making expressive A1 charcoal drawings, before working on canvas with thick brush and palette knife marks of black and white oil paint, in the style of Gillian Ballance. Everyone finished the day with successful drawings and paintings to take home, and a large amount of new knowledge about art and artists.
Thank you to everyone who donated money towards this wonderful event. Thank you too to each student who worked so hard to make great paintings. Gillian would have been delighted!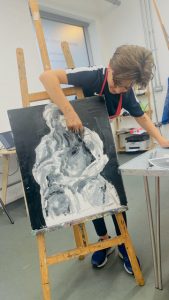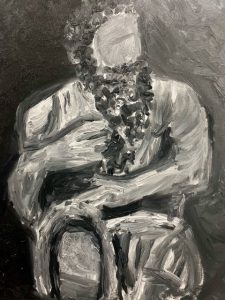 Recent Posts

Recent Comments

Archives

Categories

Meta