Enrol for the Summer Term from this Saturday!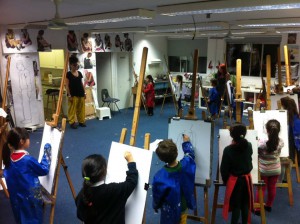 From 10am this Saturday (1st March) you can book your painting class for next term. Get ready to learn from the finest teachers, whilst a gentle breeze and some summer sun beams through the studio windows a la Provence.
Please visit our website to enrol. Some classes become full very quickly so booking early is recommended.
We run 21 classes for adults and children each week in Barnet and two classes for adults in St Albans on Fridays too. There's something for everyone.
If you are an adult beginner, the best class to start on is the Introduction to Oil Painting with Michael Kirkbride NEAC on a Thursday afternoons. But don't worry if you can't make that session because all of our teachers plan their classes carefully to cater for the full range of abilities.
Our children's classes are always a lovely mix of like minded students who enjoy art. We teach in the style of the teachers we enjoyed most at Art School with a focus on teaching about materials and techniques.
If any of the current terms classes have space you might like to book yourself a taster session. Please check here for availability. If you can't make any of the ones on offer then you are welcome to email paul@insight-art.co.uk to make an appointment to visit the school so you at least get to see a class in progress.
We hope you will join us, the teachers, and over 300 students for the summer term, dust off your brushes and enjoy making some paintings you can be proud of this summer.
Recent Posts

Recent Comments